Quick Turn Around Products on White
Just two days ago, I received a request for a quick turn around products on white.  As a commercial photographer, products on white for e-commerce is something I specialize in. Products on white are in high demand on most platforms such as amazon, ebay and so on.   Its also a good staple to have especially for investors and the end user buying your products.  It's clean and allows the buyer to focus on the product itself, limiting all distractions. 
Considering I have my own studio and make my own schedule, I am able to take on last minute request, such as this example, to provide a same day quick turn around.
If you are in a pitch and need products shot on white, simply contact me. We can arrange for you to either drop off the products to my studio directly in person or ship the products to me.
I like to be transparent about my pricing and have everything listed out on my pricing page.  I charge per product and per shot.  You can find this charge on my pricing page for more details and calculations on what it will cost you.
When the client arrived with the products, I talked to him about his vision and made a few suggestions. I then sketched out the different angles to shoot the product from showing off the entire product to the detail shots the shopper would like to see closer in detail.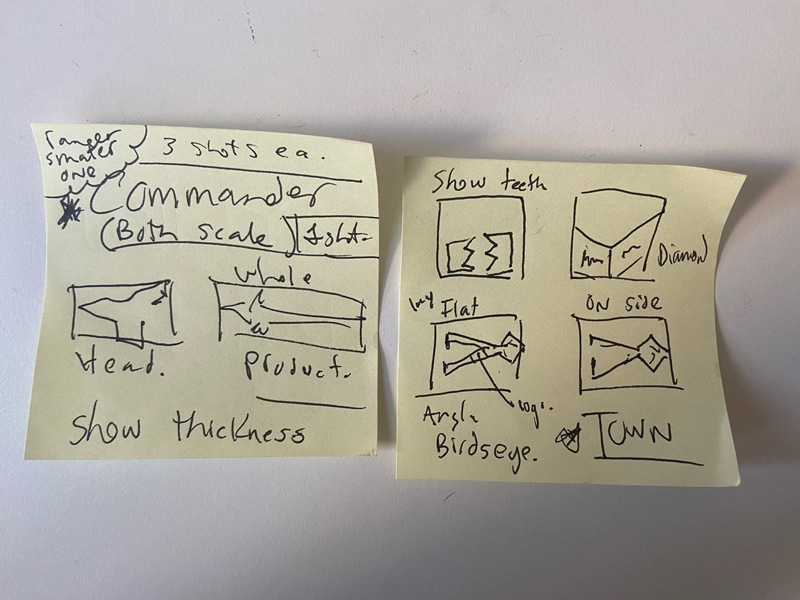 Once we agreed on the number of shots per product, I am able to dive in and start shooting.  I also like to take a few test shots and send them to my client for approval.  This way I can make any refinements before I get to knee deep into the job. 
The responds I received from the test shots was:  "Yup! These are awesome! Maybe one of the handle too (?) Wow. Amazing to see this for the first time."   I then photographed the handle and sent it via text and he responded; "Perfect! Omg Amazing."
The featured image as well as the ones below are all raw images shot in camera.  If you require further retouching such as clipping, my team and I can edit the images for you.  However, I am most confident that the raw images as you can see are on target as is.
Sometimes people want to take the image a little further with graphics.  The options are limitless.  First you must have a great image to work with and from there you can do pretty much anything.
Below are the product shots I mentioned for Pit Command.